The Chiltern Open Air Museum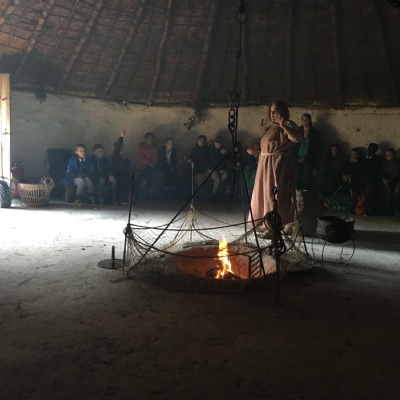 We had a brillaint day at the Chiltern Open Air Museum learning all about the Iron Age and how the people in the Iron Age lived.
We visited a round house and we took part in daily Iron Age activities including, making flour, bread making, clay pot making, weaving, making butter, body paint and we even began making our own clothes. We ended the session sitting round the fire. We got to see some rocks, weapons that they had during the Iron Age times and we even got to hold a sword. We found out lots about the people that lived during the Iron Age, Anna was shocked that our toilets are in our houses (apparently that wasn't normal in the Iron Age).
We also made shelters to protect us when we went into enemy land. We belonged to the Catuvellauni tribe.Once we had finished, we had to tidy away so that our enemy didn't know we were there.
Both children and adults had a great day with the children learning a lot about the Iron Age from the trip and getting to experience Iron Age life.