Year 6's Crazy Year So Far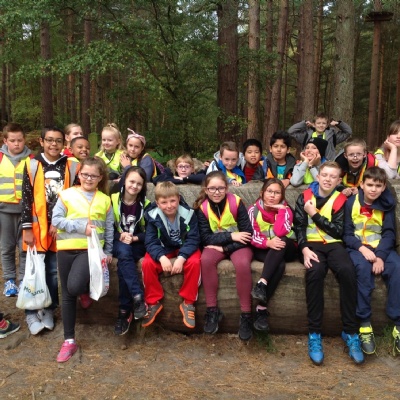 This year so far has been amazing for Year 6. We have had PGL with our fun activity week, our trips to EP, some of us have been to the British Museum, our special groups to help us with grammar and preperation for SATs and lots of sport tournaments.
Our first fantastic event of the year was PGL and activity week in October 2017. On Monday we went to Swinley Forest by the Look Out Discovery Centre. We walked an epic 5 miles! On Tuesday we had a competition on who could make the sturdiest bridge using only art straws, card, sellotape and paper. It had to manage to hold a tennis ball, Mr Phillips' mug and a huge rock. Wednesday was our art and craft day; we made our own felt pencil cases and mini monsters/aliens. Thursday was Food Technology day! We made yummy pizzas. Friday was Oakwood day and we had the time of our lives.
We have had 2 trips to EP school to learn dance, drama and singing. Later in the year we will be performing to parents our skills we have learnt with Mrs Stevenson and Miss Sauvage.
Mrs Van der Rest has started a grammar group to help the ones who have a bit of struggle and the wonderful Mrs Matthews has started a SATs preperation group called ELSA to help the ones that usually can't cope with doing tests.