Year 6 Week 8/5/2018 to 11/5/2018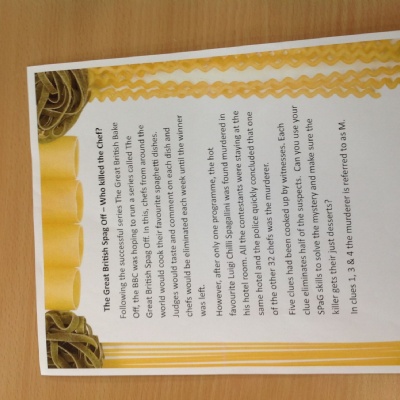 This week has been full of interesting activities!
This week we have been doing some little tests so we know what to expect in SATs week. This has helped us to try and STRIVE to get the best score we can in the SATs next week.
Mr Phillips and Mrs Watson made a game for us to help us with our SPaG. The Great British Spag off is designed to help us with capital letters, prefixes, determiners prepositions and word types. The dramatic story is that the all-round favourite Luigi Chilli Spaghellini has been murdered in his hotel room, and we have to find out which of his fellow contestants committed the crime.
In today's Maths we had a mental maths treasure hunt around the school field. You had to link lots of SAT style questions and answers together. We all thought it was very fun and some of us got 12/12!