Year 6 Reward and Transition Week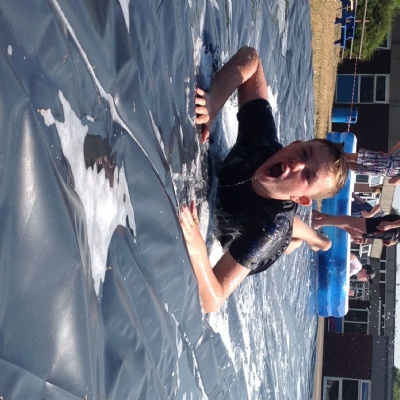 This week we had reward day and transition!
Transition:
This week, on Wednesday and Thursday, we all had EP transition (except for those going to different schools) and we all now know most of the EP grounds. We met Mrs Preston (the head of Year 7 and Year 8) and made some new friends in our tutor groups. We had lessons like Science, English, Maths and Food Tech.
Reward Day:
FABULOUS, FANTASTIC FUN are the perfect 3 words to describe this years reward day. We had a sensational Slip'n'Slide, 4 simply huge swimming pools, water balloons and water cannons. We had water fights, team games and a competition to see who go the furthest on the Slip'n'Slide.
A HUMONGOUS THANK YOU to Mr Baker, Mrs Botley, Mrs Matthews, Mr Phillips, Mrs Watson and Mr Roberts for preparing all of the water activities for us!