Great Hollands Primary School to join the Maiden Erlegh Academy Trust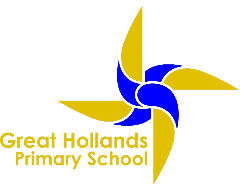 Maiden Erlegh Trust is very much looking forward to welcoming Great Hollands Primary School into our community and we expect this to happen before the end of the Summer term.
For all of us here at the Trust, this has been a very important decision and we take very seriously the responsibility that is being passed on to us. We are a small Trust because we will only partner schools we believe in, and only when we feel able to support them effectively. We are determined to help Great Hollands Primary become an exceptional school and we are thrilled that we have this opportunity.
As a Trust, we work very closely across schools and with our specialist colleagues to support and challenge each other. Taking time to understand the individual strengths and needs of each school, and then working collaboratively on school improvement are hallmarks of what we do. Our track record on securing improvement is excellent. We are committed to ensuring that the school improves so that it provides the best possible education and school experience for your children.
Our work with the school will start before the end of term, through highly experienced specialist primary colleagues. They will work in the school, alongside Mr Ferris, and they will build on the improvements already made.