Year 5/6 Basketball Tournament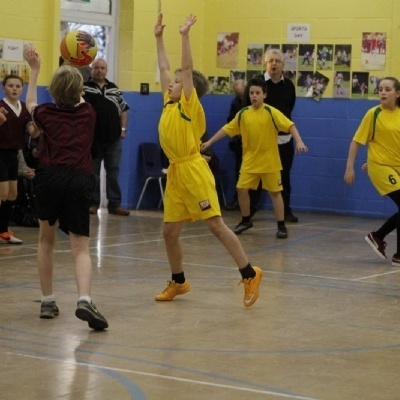 Having spent 6 weeks practicing Basketball in our PE lessons, we had home advantage in our school gym for the annual Basketball Tournament with Whitegrove School.
Two teams were chosen, with a mix of boys and girls from Years 5 and 6.
Our team in blue played as well as they could and despite some great play from Millie, Harrison and Lewis, we were unable to register a win, but all gave it their best shot.
Our Yellow team also played superbly with Sam, Callum and Nieve all scoring. We easily won all our games and the overall tournament winners were to be decided in the last match of the tournament. Whitegrove's Burgundy team had been watching us and decided that their only chance was to stop us getting close and keep us having to shoot from far out. This tactic worked, but we still had far more shots than they did but were unfortunately unable to score this game. Whitegrove eventually won this game and therefore the tournament, in what was the typical one-sided affair but they scored on the break and won.
Everyone on our teams should be pleased with the way they played and the year 5's can look forward to trying out again next year for next years tournament.