Year 3 Benchball Tournament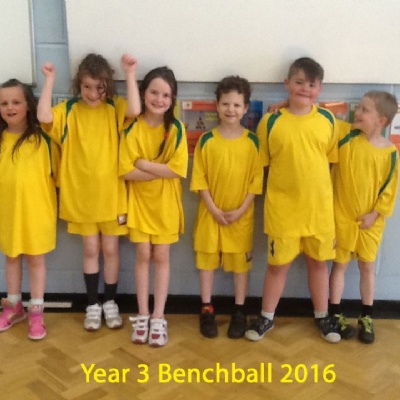 Year 3 Benchball Tournament on April 12th 2016
Our two teams arrived at Evendens, ready for their Benchball Tournament having practised in several PE lessons. Daniel from Edgbarrow had been working with the children in PE and chose the two teams based on his lessons.
Team Riley took to the court and gave it their best shot. The three games they played were all very closely fought matches, but were lost by 1 or 2 points each time.
Team Jospeh won their games and finished by playing in the final decider match. Whoever won out of Joseph and Neveah's team would win the tournament overall. A nail-biting game followed, with the first team to score 4 points being declared the winners. With 1 minute to go, the score was poised at 3-3 and Riley had the ball in our half. He launched it down for a long-range shot to Greg, who while standing on the bench, bent forward and caught the ball at arms length in front of his toes. After a little wobble he somehow managed to stay on the bench giving us the 4th point, the win of this game and the overall win of the tournament.
All 12 players - should have been 13, but Lizzie was unfortunately not playing today - went home delighted to have won the big trophy and are looking forward to their next tournament.
Thanks should also go to Daniel who has worked with year 3 in their PE lessons on Benchball.