Year 5/6 Hockey Tournament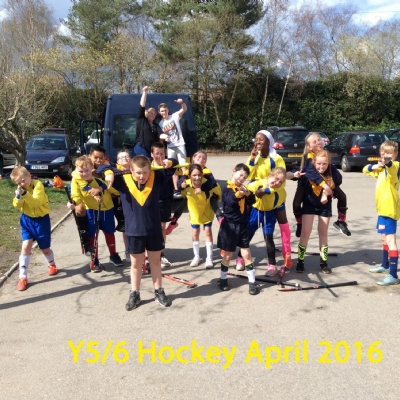 We've been practising in our PE lessons for the annual Bracknell Forest Hockey Tournament. 14 children were chosen to make the two teams, with Millie being drafted in as a late replacement 30 minutes before we left school due to injuries.
Our two teams were up against some bigger, stronger and faster year 6 children from Ascot Heath, Warfield, Jennetts Park and St Michaels Sandhurst in the group stage.
All our games were very close (except 1 which we won't talk about too much) with some of them being drawn, a few being lost and one being won. The ball bounced off their goalie up into the air and in ran Elise who smacked it into the goal with a volley that Andy Murray would have been pleased with on the tennis court. We found out at the end that this had been voted the 'Goal-of-the-Tournament' - well done Elise!
Unfortunately, we didn't qualify for the quarter-finals, but we still enjoyed the day at the hockey club.
All those who went should be delighted with the way they represented school and also with they way they never gave up in any of the games we played.
Apologies for the lack of photos, slight techincal issues with the camera deciding to mess up the memory card. Hopefully this can be resolved and the photos can be added here later.