Year 3/4 Basketball Tournament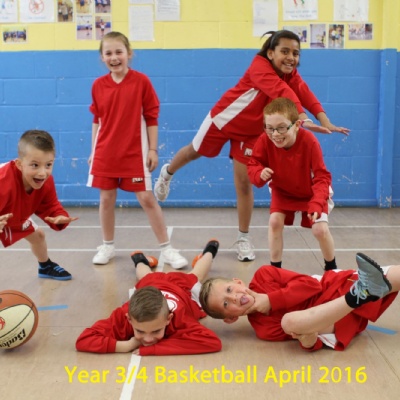 Friday 15th April vs Whitegrove
Friday 15th April we were all set for Whitegrove to arrive and take them on at Basketball. PE lessons saw us practise all the skills we'd need and two team were chosen to battle for the 'Challenge Trophy'
The games started nervously with a 0-0 and a 6-6 draws, then got going. In what turned out to be a most annoying afternoon for our teams, we were brilliant in tackling, passing, dribbling and put in lots and lots of shots.
We hit the back-board and the ball bounced off.
We hit the back-board, the ball hit the hoop and bounced off.
We hit hoop and the ball bounced off.
We hit the hoop, the ball rolled round it and fell off.
We were left wondering what we had to do to actually score! It was made even more frustrating as Whitegrove seemed to score almost every time they shot. Had all out shots gone in, we feel we would have won the games quite easily.
As it happens, Whitegrove played well adn did the all-important thing of scoring and finished the tournament as the overall winners.
All our team played brilliantly and are now looking forward to getting rvenege against Whitegrove in next years Basketball tournament.
Thanks to Daniel for his efforts in training the teams and to Kelsey and Tai for taknig the photos for us.