Girls Football Tournament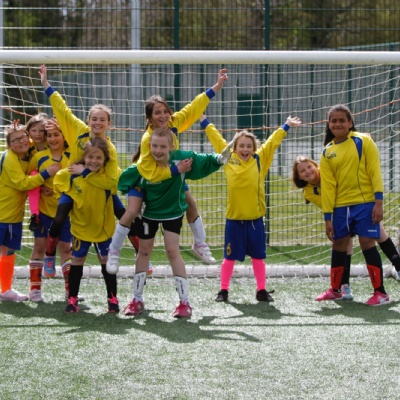 Girls Football Tournament at Easthampstead Park School. April 2016
April saw the annual Girls Football Tournament. We entered as normal and, this year, we gained a slight problem.
The Year 6 girls had been practising from October half-term and were looking forward to it. However, when the final date came through, it was a date that the Year 6 girls couldn't make. Rather than drop out, 10 Year 5 girls said they would be keen to play and off we went - 7 of the girls never having kicked a football before!
Despite this the girls played fantastically, learning the rules and tactics as we went through the tournament. 3 of our 5 games were lost 1-0, one we lost 4-0 (but that was against a school that has girls who play for Chelsea's Academy. Our last game, we put everything we had learned into one last effort and were very unlucky not to score and win the game.
The girls represented Great Hollands School brilliantly and are now looking forward to upcoming matches against Crown Wood and Jennetts Park.