Year 1/2 Benchball Tournament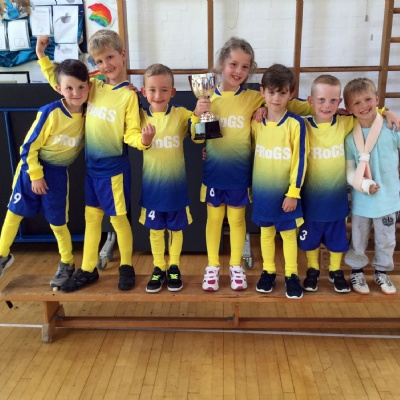 Year 1/2 Benchball Tournament at Evendens
Tuesday 12th July was the date for our Year 1/2 Benchball at Evendens in Wokingham.
Mrs Rankin and Mrs Gadsby had been practising and teaching their squad how to play on Thursdays after school since Easter. Teams were chosen and we were all looking forward to the afternoon out. Two days before the tournament, Taylor comes into school with his arm in plaster having broken it in an accident at the weekend and wasn't now able to play :-( which meant that Henry leapt in as a last minute replacement.
Team Evie playes as well as they could, but lost games to the bigger and stronger Year 2 teams from both schools and finished in 4th place.
Team Felicity played brilliantly and with drawing 1 and winning the rest of their matches, they were declared the overal winners and regained the Evendens Challenge Trophy for us.
A big thank-you to Mrs Rankin and Mrs Gadsby for their efforts in training the two teams and taking yet another win to their coaching record.
Unfortunately, the Year 1/2 Benchball Tournament had to be cancelled this year, but we are hoping to re-organise it for September.