Year 5 Tag Rugby Tournament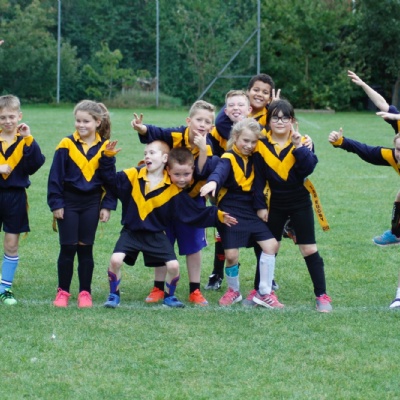 Year 5 Tag Rugby Tournament
The LEA's annual Tag Rugby Tournament, as usual, was the same week that Year 6 were away on their PGL trip, so it fell to Year 5 to represent the school.
Lots of practise of the skills, rules and game play led to the swuad of 11 being selected from PE lessons.
We went to Whitegrove for a practise match the week before and put on a brave effort for our first match and despite some excellent running rugby we lost 6-2 - but we had learnt a lot to put into practise in the tournament the following week.
At the tournament, we gave it our best shot. A victory over The Pines, a draw against Holy Spring and very close loses to Winkfield, St. Michaels, Crownwood and New Scotland Hill saw us not qualify for the quarter-finals.
Thanks to Mrs Botley and Mrs Sparshott for taknig the team on the day and the year 5's put in a great effort up against a lot of Year 6's from the otehr schools.