Year 6 Tag Rugby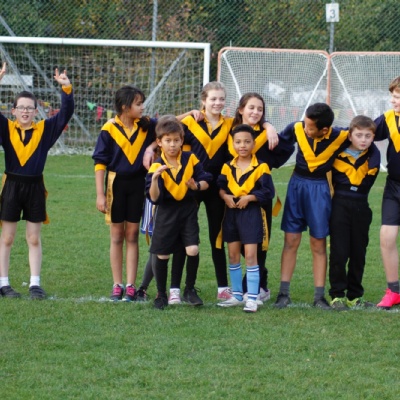 Year 6 Tag Rugby versus Whitegrove
As the LEA's annual Tag Rugby Tournament was during the Year 6 trip, we organised a mini-tournament between us, Jennets Park and Whitegrove for Year 6 to play in. Unfortunately Jennets Park had to drop out a couple of days before leaving us to take on Whitegrove on our own.
We knew the team, we knew the rules and we knew what our tactics were. Get the ball, hit the spaces and run with Jamie going through the middle.
The attacking play was working, but we needed to shore up the defence as by half-time the score was 9-9.
In the second half, we did just that. Jamie carried on runing through the middle scoring and creating the spaces for Anjil, Harvey, Elise and the rest of the team to then run into. Our defence and tackling also improved, unfortunately so did Whitgeroves - leading to a 15-12 defeat to them.
27 tries scored in a 20 minute long match showed that both teams are excellent at running and passing and with less tries scored in the second half, then defences showed an improvement too.
All should be delighted wiht the way they played and represented school and most of the team are looking forward to playing contact rugby at secondary school.