Rounders 2015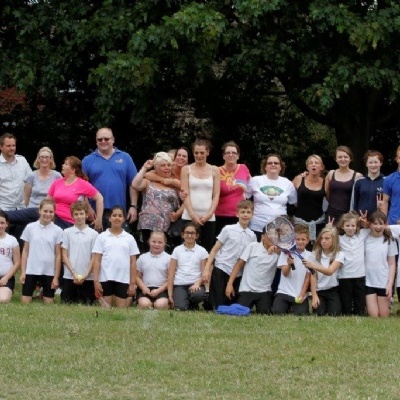 Year 6 vs Parents & Staff
After the girls vs mums/staff football match had finished, one of the mothers suggested to me that maybe we could have a parents/staff vs Year 6 rounders match just before the year 6 children leave us and also to see if we could get any dads keen to join in and play.
The date was set for Thursday 16th July.
Year 6 practiced in PE and felt that the normal scoring of rounders and half rounders meant the scores were too low, so they devised their own system. Year 5 tried it out and after a 45 minutes game in-between two classes, the score finished up 99 to 101 to Mr. Phillips class. Year 5 loved the scoring system, so year 6 kept it for their upcoming game.
The adults who were playing were invited to a practice session the day before, where the rules and scores were explained and a rounders bat was swung (for some for the first time in a lot of years!)
The time of the match arrived and year 6 decided to bat first. Some good bowling and great fielding from the adult team saw the children finish their innings with 54 runs.
In went the adults to bat. Due to existing injuries (and some getting on in age) some of the adults did have someone else run for them. Mrs Horn, umpiring the match, did disqualify the runs scored by the PE team saying that it was unfair that we used a tennis racket and should have used a rounders bat instead. Despite all this and a little 'friendly' obstruction from the Y6's while we were running, the adults finished on 60, giving us a 6 run victory.
Many thanks to all those who played on the adult team, some of whom have already mentioned about practicing for next years match.