Year 5/6 Girls Football Tournament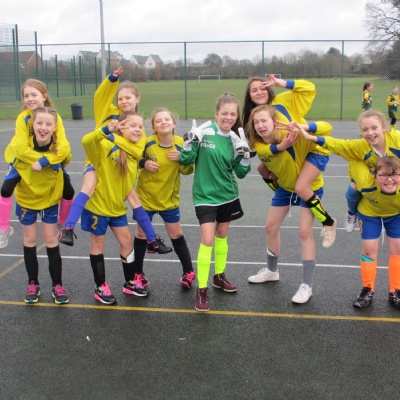 Wednesday 8th March saw the annual LEA Girls Football Tournament at E.P. School
We'd been practising after school on a Tuesday for some time and arrived at E.P. confident of doing ourselves justice and having an enjoyable mornings football.
Our first match was against Harmanswater. It was a tough game to start and finished with us losing 1-0. The rest of our groups games were another 1-0 loss to Winkfield St. Mary's, drawing 0-0 with Binfield, Wooden Hill and Warfield and a 1-0 win over St. Michaels Easthampsted thanks to a goal from Elise.
This meant we finished joint 4th in our group of 7. A good result considering we gave it as much as we could, but unfortunately not quite high enough in the group to qualify for the semi-finals.
Despite this, all 10 girls should be very proud of the effort they gave and the way they played - some of them have progressed into our schools A and B League/Cup teams.
Well done girls!