Year 5/6 Hockey Tournament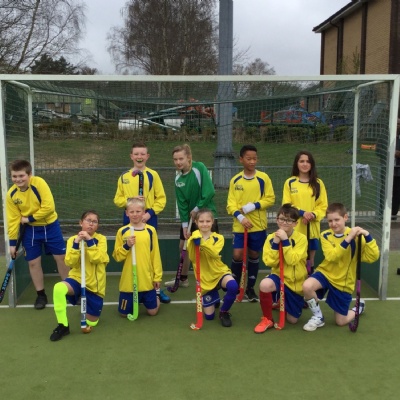 March 2017 saw the annual Year 5/6 Hockey Tournament
As usual, we have been practising hockey in our PE lessons for the last half-term. The team was chosen and off we went on the morning of the 29th.
We found out that we were in a group with Harmanswater and St. Margaret Clitherow Schools and would be playing each one twice, with the group winner going through to the quarter-finals.
A cracking first game against Harmanswater saw us win 2-0 with goals from Harvey and Anjil. Karla in goal had nothing to do all game as our defenders were that strong.
The second game was against St. Margarets. A good battling performance saw us lose 1-0 to a very unlucky goal. Harmanswater were then up again and this time it was a 1-1 draw with Anjil finding the net for us.
Then came the final group game. We already knew that Harmanswater were going to be knocked out and it was between us and St. Margarets. In effect, the sudden death knock-out stage had begun and we wanted revenge for their defeat earlier in the day. We could have setup camp in their half and peppered their goal for the entire game. It was most annoying that their one trip into our half, resulted in one shot and one goal after a massively unlucky deflection round Karla. We were devastated to lose 1-0 and be knocked out of the tournament. :-(
All the team gave it their best shot and the Year 5's who were there are already looking forward ot next years tournament.