Year 5/6 Basketball Tournament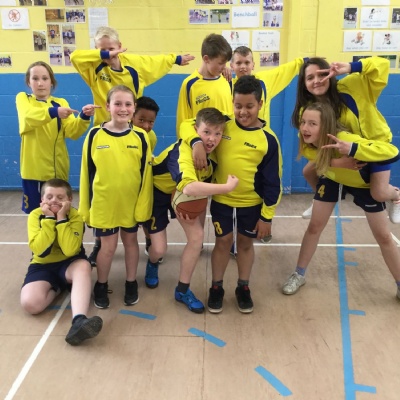 Thursday April 27th saw our annual Year 5/6 Basketball Tournament against Whitegrove
We'd been practising in PE lessons for six weeks the skills needed to play Basketball. Dribbling, attacking play and the 2-1-2 defensive play. We knew that if we put these to good use against Whitegrove then we had a good chance of doing well.
Team Lennie did the best they could, played well and were unlucky to lose all their games.
Team Elise drew 1 of their games and won the rest, after some fantastic play and baskets from team members. They finished joint top with one of the teams from Whitegrove. Final positions were decided on who had scored the most points during all the games that were played. Whitegrove's team chalked up 13 and we scored 16, so were given the overall win.
Team Elise were delighted to get the win and are loooking forward to getting their hands on the Whitegrove Challenge Trophy.