Year 5/6 Girls Football Tournament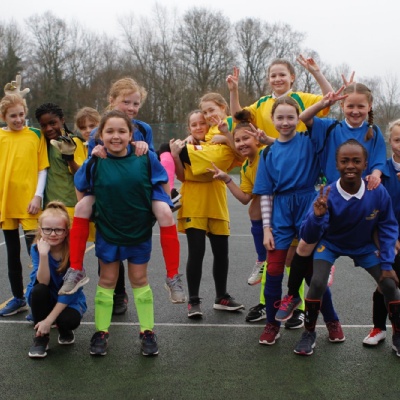 Our girls football squad had been training on Tuesdays after school from just after the October Half-term break in 2017 and two teams of 7 arrived at E.P. School ready to play.
Team 'Dragons' in blue played 5 group games. For two of them, Tilly in goal complained of having absolutely nothing to do as we had set up camp in the oppositions half. We tackled, passed, dribbled, shot......did everyting we could except score a goal. Four of our games finished 0-0 with the 5th game, being against our old adversaries Whitegrove, ending 1-0 to them as they scored in the last 10 seconds of the game!
Team 'Beasts' in yellow, also had 5 group games to play and tey told me of a similar approach tot he blue team for the day and all their 5 games finished as 0-0 draws.
All the girls should be proud of the way they represented school at the tournament, with the Year 5 girls already looking forward to playing again next year when they are Year 6.
For pictures of the tournament, click here.