Year 5/6 Basketball Tournament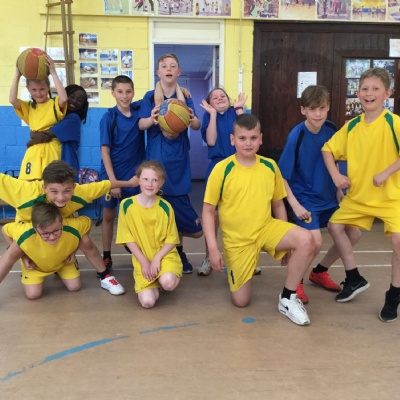 Friday 20th April was the annual Year 5/6 Basketball Tournament against Whitegrove School
We'd practised in PE for a half-term, looking at 2-1-2 defence and a 5-out attack and arrived in the gym ready to put it all into pratcise.
The yellow team played their hearts out, losing to Whitegrove's Year 6s, beating Whitegrove's Year 5s and then losing to our own blue team, leaving them overall in fourth position at the end of the tournament.
The blue team found themsleves playing in the final against Whitegrove's Year 6 team, the winner of this match being declared the winner of the tournament. Back and forth the game went from end-to-end. Shots were reigned in on the basket, but all seemed to bounce off or roll round and out of the basket.
Lennie got the ball and shot from quite a distance away and jumped for joy when the ball sank straight thorugh the basket without touching it, to give us a 3-0 lead. Whitegrove kept battling and got the score back to 3-2. We went back to the end-to-end game with shots bouncing off the backboard and basket at all angles. Such a relief was felt when the final whistle went with the realisation that we had beaten Whitegrove in the final 3-2 and therefore won the whole tournament. Not only that, but we had regained possession of the Great Hollands/Whitegrove Challenge Trophy, which Whitegrove have had for the last year. :-)
All 12 children played as well as they could and should be proud of the way they represented school. Click here to see the team photos from the tournament.