Cross Country Tournament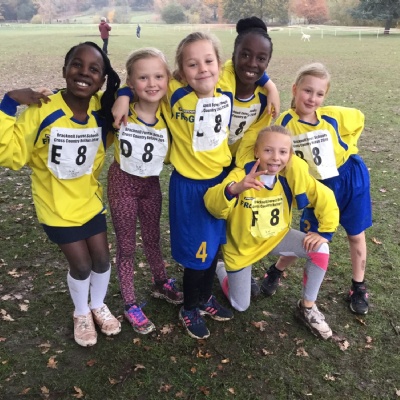 Annual Cross Country Tournament at South Hill Park
Friday 16th November, we arrived at a cold, wet and muddy South Hill Park for this years annual 900 metre long Cross Country Tournament. We had been looking in our PE lessons on how to improve our stamina, breathing and running performances and were there with the aim of improving on last years positions in the races.
Having had a walk round the course to familiarise ourselves with it, we'd discovered where the mud would make it very tricky and decided on how best to approach those parts.
The Girls 'B' team race was first and off we set. The 6 girls gave it everything they could and our last leg runner, Casey, received a big cheer from the crowd as she crossed the line.
The Boys 'B' team was next and off we went and again, we gave it our best shot.
Next up was the girls 'A' team race. Our 6 girls were ready with one of them insisting that this year she would make it round uninjured and not break anything. Maddie did just that and all 6 girls finished as well as they could.
The final race of the afternoon was the Boys 'A' team race. Christian took the first leg and the boys ran their hearts out.
All 24 runners should be very proud of the effort they put into their races. On the day itself, we knew we hadn't won any of the races and with just under 80 teams running, we would have to wait for the results to be emailed to us..................
Friday 24th November and the email arrived.
The girls 'A' came home in 19th place out of 24 teams and the 'B' team finished 14th out of 14 in their race.
The Boys 'A' crossed the line in 20th out of 24 teams and the 'B' team were 9th out of 17.
A special mention goes to two of our runners :-
Josh, who ran the course in 4 mins 40 seconds and was the fastest Year 5 on the day.
Dylan who ran in 5 mins 35 seconds and was the fastest Year 3 on the day.
A great effort from all the runners and some are already looking forward ot next years races.