Year 4 Girls Football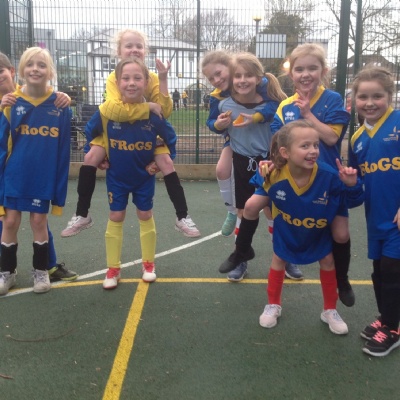 February 12th vs Evendens
An email from Evendens School in Wokingham threw down the challenge of an all-girls Year 4 Football match. Our girls readily accepted the challenge and the game was organised.
We turned up on 12th Feb ready to play (admittedly with very limited practise before hand) and our two teams played fantastically.
Ellie-May and Mia, who were in goal for the two games, made some brilliant saves throughout the games they played in. Olivia got caught by the ball a couple of times and carried on as did Milly. Isabelle played in both games as we were one short due to injury and ran herself into the ground. Evie ran herself all over the pitch in midfield and Sarah-Louise, Darcie and Paige all showed a willingness to play and 'get stuck in'. Sarah-Louise scoring one with Darcie and Paige netting two each. As of the time I write this, Darcie and Paige are now joint top goal scorers for the whole school (even ahead of the Y5/6 league teams!)
Team Ellie-May finished with a 2-2 draw and Team Mia finished with a 3-3 draw.
All 9 played brilliantly and we're looking forward to seeing them in the Y5/6 girls football tournament next year.