Year 5/6 Girls Football Tournament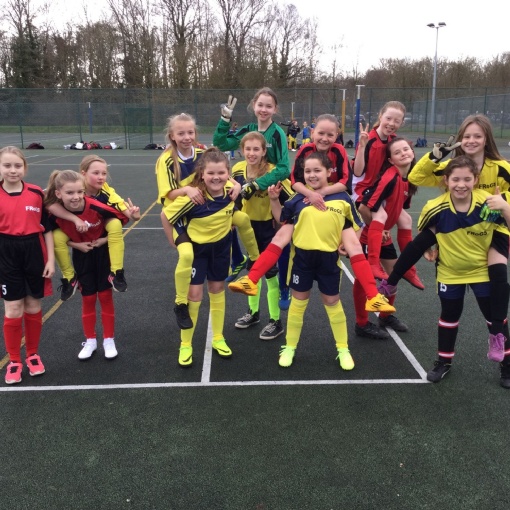 Wednesday March 13th at E.P. Secondary School
Thirteen of the fourteen members of the Y5/6 Girls Football Squad arrived at E.P. ready for ths years annual girls tournament.
Team Rebecca, in yellow, had five group games to play and spent most of those five games camped out in the other teams half. Shots went at the opposition goal from all angles and distances and we hit everything except the back of the net. Five matches ended in five 0-0 draws. Lizzie, the goal-keeper for that team, announced that she was bored as she had had very little to do in every game.
Team Jessica, in red, had a slight disadvantage of being one player short. For three of their group games a player from Team Rebecca was borrowed. For the final group game, we had to play as a six due to playing at the same time as the other team. We drew two games 0-0, lost a very close game 1-0 to Uplands and then beat Wooden Hill 2-0.
Both teams should be very proud of the way they represented school and played in their matches. Even though we did not qualify for a semi-final, Team Jess did regain the 'Wooden Hill/Great Hollands Challenge Trophy for beating them 2-0. :-)