PGL October 2014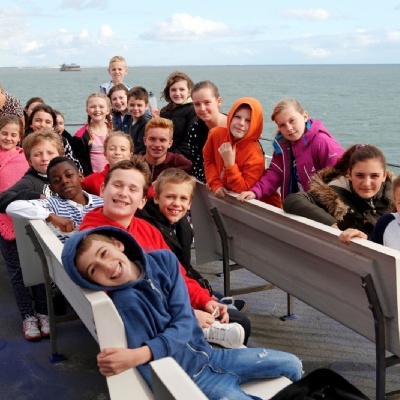 Monday October 20th, our Year 6 arrived in school at 10.30am armed with suitcases, sleeping bags and travel-sickness pills, got on the coach and set off to go to Portsmouth.
Two hours later, the coach drove onto the ferry and we did the 35 minute crossing to Fishbourne on the Isle Of Wight. From there it was a 10 minute drive to the PGL centre – Little Canada.
We went for a walk round finding out where everything was, then unpacked in our dormitories and played some games on the Monday evening. Sleep eventually came to all around 11pm Monday night.
On the Tuesday morning the real activities started. Over the week, we abseiled, climbed, drove some quad bikes, clambered over the assault course, came down the zip wire, went up Jacob's Ladder, hung from the trapeze, fought each other when fencing, solved a lot of problems, shot bows and arrows, ate pretty much everything that the canteen cooked for us and other schools that were there and really enjoyed ourselves.
Then came the sensory trail…… and a lot of a mud and water. A LOT of mud and water! Blindfolded, we had to try and work out what the obstacle in front of us was, how to get round, over, under or through it and then tell our mates behind us what we had worked out. Great fun and big laughs and smiles when the blindfolds came off at the end and we saw how much mud and water was on us. Even Mr Keohane, Mrs Couzens and Mr Roberts joined in the fun.
Having then went to the last-night disco, we packed up and came home on the Friday afternoon, having had a fantastic time away and in much need of sleep!
The current Year 5's are already looking forward to their trip to Little Canada in October 2015 having seen some of the photos and heard about the adventure from their friends in Year 6.