Year 1,2,3,4 Sleepover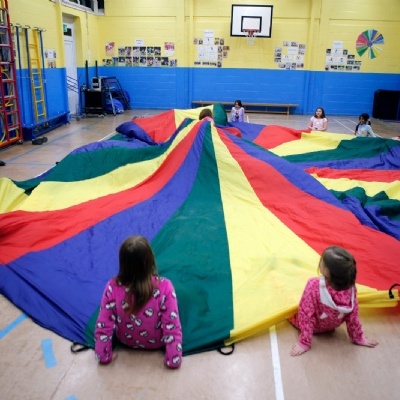 Friday March 13th saw the 7th annual sleepover in the junior end of the school.
43 children from years 1-4 arrived in school at 8pm on the Friday night. Fun was had playing team games in the gym, surfing the Internet and playing games on the Internet in the ICT suite and to finish off, the bowling game on the Nintendo Wii was projected onto the wall as large as we could make it.
At 11pm, hot chocolate with marsh mallows and squash was drunk and we found ourselves in our sleeping bags. 11.30pm came and Frozen was put on – again projected onto the wall and the sound was run through the disco sound system to make our own little cinema. At 1am when Frozen finished, we then put on Peabody and Mr Sherman for those who were still awake. That film finished and everyone was then asleep by 3am.
6.30am on the Saturday morning and everyone was woken up – some were rather sleepier than others – and after toast and cereals for breakfast, everyone was collected and taken home to sleep at 8am.
All had a great time and the years 1,2 and 3 are already looking forward to next year's sleepover.
Please click here to see more photos in the gallery