Sleepover March 2016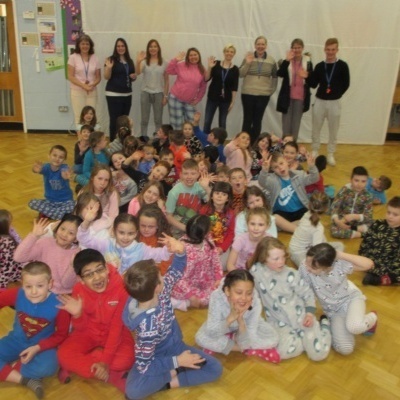 School Sleepover Friday 4th March
Friday March 4th was the date for Sleepover '16. 47 children from Years 1-4 along with 11 staff members arrived in the Junior Hall at 8pm on the Friday evening and were split into three groups.
Each group had 45 minutes playing games in the gym, playing in the ICT suite and bowling on the NIntendo Wii in the hall. Our Year 1 group absolutely thrashed all the others at the bowling!
11pm came and we had all the sleeping bags and camp beds set up on the hall floor, hot choclolate with cream & marshmallows had been drunk and we settled down to watch the first film, Inside Out. Most of the children were still awake at 1am when the film finished, so the second film Two by Two was put on. By the time this finished at 2.20am, there were only a few still awake, with the last one dropping off to sleep and quiet coming around 3am.
6.30am saw everyone woken up, bits cleared away and breakfast cereals were eaten.
8am on the Saturday morning and all were collected. Some rather sleepily walking out of the school front door, some almost carried out and a couple insisting that they were fine with only 3 hours sleep during the night.
All are now looking forward to Sleepover '17 next year.