Year 6 win Kwik-Cricket Tournament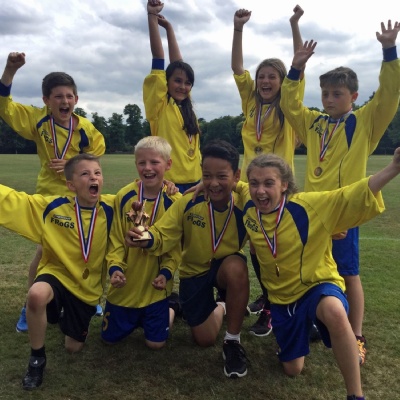 A fantastic win for Year 6 and an excellent effort by Year 5 - Well Done!
Having practised in PE lessons and seen how other teams had beaten us last week, our Year 6 team and Year 5 B team arrived at Wellington College in a mood to extract revenge.
Year 5 gave it their best attempt, but were narrowly beaten by Warfield and Wooden Hill and were really up against it when we played Birch Hill and St. Michaels Sandhurst. Great play from all the team, but we we didn't make the semi-finals.
Year 6 got off to a good start, beating Ascot Heath, Uplands, Wooden Hill and New Scotland Hill, to qualify as group winners and proceed to the semi-final.
The mood dropped a little when we found out we had been drawn against our old foe Whitegrove, but on we went. After a good session of bowling and fielding, we had limited them to 198 runs. However, their bowling and fielding was also very good and the extremely close game finished with us scoring 199 and beating them by 1 run!
It was announced that we would be facing Warfield in the final. Delighted from our semi-final win, we were full of confidence and this showed in our fielding. Another close game and we weren't sure watching from the side who had won - until Mr Keohane turned round, looked at us, raised his fist into the air and smiled. WE HAD WON!!!! ;-)
We now have the trophy and some very nice gold medals to go with it.
Year 5, who had been knocked out earlier and had played brilliantly were very happy for their Y6 team mates and the celebrations started. A lot of delighted singing along to Bon Jovi in the minubus on the way back to school, that we were told could be heard in the car behind us by one of our grandparents who had come to watch for the day!
Well played everyone. :-)