Year 5 enjoyed a fantastic Spanish Fiesta day.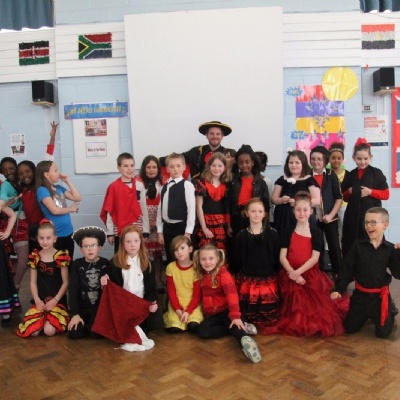 Year 5 pupils dressed up in a colourful array of Spanish themed costumes.
The day began with a special workshop where the children learned all about Flamenco ( not flamingo )dancing. They listened to a professional flamenco guitarist as he accompanied the dancer who played her castanets with mucho gusto. The children learned a dance routine which they later performed for the whole school in their sharing assembly.
The Flamenco dancer and guitarist put on a performance for the whole school to enjoy as well as sharing some of the history of Flamenco. It was a riot of colour and sound.
Back in class year 5 enjoyed a selection of Tapas food which had been cooked and prepared by the teaching staff. Tortilla, patatas bravas, olives, Manchego cheese, chorizo, paella, gazpacho and albondigas were available to be tasted by everyone. The teachers were impressed with the children's willingness to try these new tastes and experiences.
The day was ended by enjoying the exciting adventures of Don Quiote.